Get a Professional Business Address for FREE with Texan Registered Agent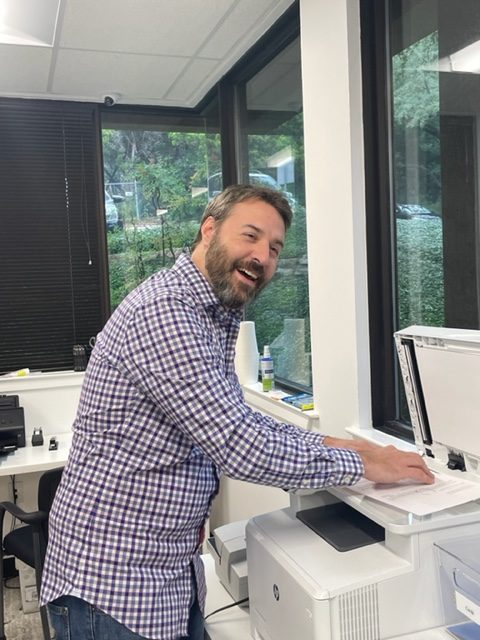 With Texan as your registered agent, you get the use of our business address plus 3 free mail scans.
Want all your regular mail sent to our address? We also offer Mail Forwarding:
3 mail scans – FREE
+10 mail scans – $49/year
+25 mail scans – $99/year
Unlimited mail scans – $19/month
Protect Your Privacy With Our Address
A professional business address helps companies establish a sense of legitimacy. But what if you run an online store? Or work from home? Using your personal address will put the location of your home out there for anyone to see, including spammers and listservs…
With Texan Registered Agent, you get a professional business address for FREE with Texas Registered Agent Service.
What do we mean by professional business address? The address you get with Texan is:
In a commercial office building
Minutes away from the Texas Capitol
NOT a P.O. Box
NOT in a residential building
NOT going to change
Even though rents are rising and stability seems impossible these days, we don't think you should have to spend a fortune to get a reputable commercial address. Our $35 registered agent service includes the use of our Austin address, which you can use to form your company and keep your personal address private.
What is a Texas Business Address?
You only need one address to form a Texas entity: the street address of your Texas registered agent. When you register your company, this address gets listed as your place of business in the state's permanent records.
Simply put, your Texas registered agent's address is your official Texas business address. It's the address your investors and clients will find if they look up your business on SOS Direct, the state's business database.
If you want lasting privacy protection—and the assurance that your business address will stay the same year after year—it's important that you choose a reliable Texas registered agent (like us!) with a respectable, established commercial address.
⇒ Our registered agent service comes with a business address in the state capitol.
⇒ We also include free Texas mail forwarding! 3 non-state mail scans each year.

Why Do I Need Registered Agent Service?
Having a Texas registered agent gives the State of Texas a fail-safe method of delivering legal notices and other official mail to your business. It's your agent's job to accept any incoming official mail at their office and forward those documents to you without delay.
You can act as your own Texas registered agent, but this will require you to be at your 'registered office' during business hours without fail, in case any official mail arrives for your company. And if you work from home, you'll have to list your private residence as your Texas business address on the public record.
Signing up for our local, trusted registered agent service frees up your time, helps you maintain your privacy and gives your business a professional boost with a commercial address.
Why Do I Need Free Mail Forwarding?
Well, you might not need it at all—but we include free forwarding of up to 3 regular mail items with our registered agent service just in case. That way, if a contract or client check ends up being mailed to your address on file with the state (instead of the one on your website), we can scan and upload it to your account at no extra expense to you.
If you're in need of a more comprehensive mail solution—a business address you can use on your website, business cards and everywhere else—we offer 3 different full-service Texas mail forwarding packages you can add to our business formation or registered agent service at checkout.
If you've been on the hunt for a good mail forwarding plan—but you don't actually require any other business services—that works too. You can sign up for any of our mail forwarding packages on their own.
What's the Best Address Option?
You can use your home address to run your business, but you don't have to. We offer 4 affordable options for your Texas business address, starting at just $35 a year.

⇒ Texas Business Address + 3 Mail Scans Annually: $35/Year
Along with our $35 Texas registered agent service, we include the use of our Austin office address to help you form your company. You can list this 'virtual address' as your principal place of business, and in lieu of home addresses for any members, directors and officers of your LLC or corporation.
This package includes unlimited same-day scanning of your legal mail, a secure client account where you can store and download your official documents, basic mail forwarding (3 pieces of non-official mail scanned into your account each year) and a 60-day, obligation-free trial of Phone Service (a virtual phone line for your business).
With this plan you can safeguard your privacy—and avoid an influx of junk mail—by using a commercial address to form your Texas business.
⇒ Unique Suite Number + 10 Mail Scans Annually: $49/Year
Don't have Registered Agent Service? If you need a unique-to-your-business, multipurpose Texas address and a moderate amount of mail coverage, this is an excellent package to choose. For just over $4 a month, you get the benefits of an established commercial address—complete with an individual suite number—that you can use in all of your daily business interactions. You also receive 10 mail scans each year, plus 60 free days of Phone Service.
If you also have Registered Agent Service, you get 10 mail scans in addition to the 3 free scans when you signup for RA service with us, for a grand total of 13 mail scans a year.
⇒ Unique Suite Number + 25 Mail Scans Annually: $99/Year
Offering all of the benefits of a unique Texas address plus 25 digital mail scans per year, this comprehensive option is ideal for growing businesses. Protect your privacy, stay organized and connected on-the-go, and avoid the dreaded mail pile-up by signing up for our most popular mail forwarding and business address plan. Like the packages above, our Unique Suite Number + 25 Mail Scans plan includes a 60 day risk-free trial of Phone Service (a second phone line to protect your privacy).
This is in addition to the 3 free mail scans you get with Registered Agent Service. In other words, if we are your registered agent, you'll get 28 mail scans annually with this package.
⇒ Virtual Office (Unique Suite Number, Unlimited Mail & More): $19/Month
Run your business from anywhere—you'll never miss a single piece of mail or business call with our feature-packed Texas Virtual Office. Includes a Texas business address with unique suite number, unlimited mail scanning to your online account, unlimited Phone Service, and a legal, month-to-month office lease. This package is flexible and customizable—designed to be as useful for home-based business owners in Texas as it is for full-time wanderers.
Benefits of a Texas Business Address
Using a professional address for your Texas business comes with a lot of perks. Here are just a few.
Privacy

It's hard to overstate the importance of protecting your private information (which is why we've brought it up so much). Listing your home address on your business formation paperwork can result in an onslaught of junk mail that's virtually impossible to escape—unless you move. Using our commercial Texas address provides a simple solution to this problem, by keeping your private address out of the public database altogether.
Stability

Even if your business relocates three times in one year, you'll have a stable, unchanging commercial address on the record for your business, helping you build trust in your community.
Ease of Use

Did we mention that you have to file a Change of Address form with the Texas S.O.S. every time your registered office moves? Listing our permanent Texas address for your business means you'll never have to submit this pesky form (and pay the $125 fee) just to keep your business in compliance.
Get Your Texas Business Address Today
If you're looking for a business address solution that will help you protect your privacy while growing your company, Texan Registered Agent can help. We provide same-day scanning of your legal mail, a respectable Austin address for your business, free basic mail forwarding and a local support team you can count on. Sign up today.