Run Your Business From Anywhere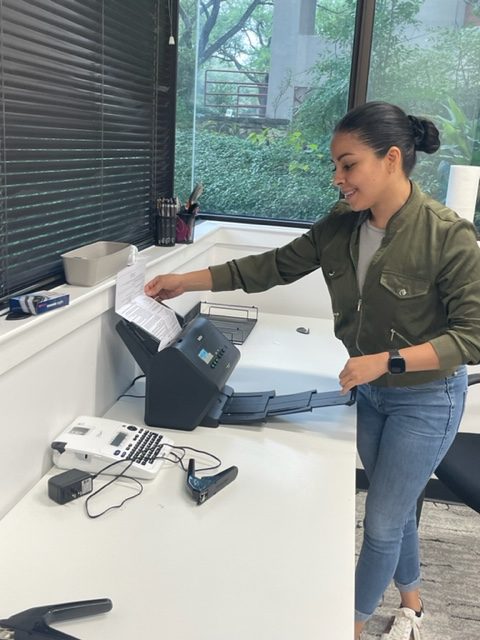 We already give you a business
address…
But Virtual Office gives you the tools you need to turn that address into the home base for your business—no matter where you are.
Our $19/month Texas Virtual Office Service includes all the perks of our Mail Forwarding Service, plus:
Unlimited mail forwarding
Phone Service
Month-to-month office lease
Meeting room rental options
Here's What You Get:
Free Mail Forwarding

Basic Mail Forwarding

Premium Mail Forwarding

Texas Virtual Office
Business Address
√
√
√
√
Easy-to-Use Online Account
√
√
√
√
Junk Mail Filtering
√
√
√
√
Same-Day Mail Scans
√
√
√
√
Phone Service
60-Day Free Trial
60-Day Free Trial
60-Day Free Trial
√
Unique Suite Number
√
√
√
Month-to-Month Lease
√
Meeting Room Rental Options
√
3
Mail Scans

+10
Mail Scans

+25
Mail Scans

Unlimited
Mail Scans

FREE*
$49/year
$99/year
$19/month
* With registered agent service.
The Affordable Way to Get Mail in Texas
Want to solidify your business presence without renting an expensive office space? Makes sense. Rents are sky-high these days, and the cost of moving doesn't make downsizing look great either. Your easiest bet is to ditch that expensive office space altogether. And you can do that by setting up a virtual office based in Texas.
With Texas Virtual Office, you can use our address for all your mail so you don't have to rent a space or use your home address for business. Our office is in Austin and we're here every day, allowing you to be anywhere. Texas Virtual Office provides instant credibility for your online or home-based business, along with practical administrative support—all for just $19 a month.
How Does a Texas Virtual Office Work?
With our Texas Virtual Office you get many of the same perks of a dedicated office space, for a fraction of the cost.
You'll have a local home base—in the form of a respectable business and mailing address in Austin, a Texas phone number for incoming and outgoing calls, and a month-to-month office lease. You'll also get the convenience of unlimited digital mail forwarding, which gives you the tools to grow your business from anywhere.
Features of Our Virtual Office in Texas
Our virtual office package is a serious multi-tasker. It builds your company's credibility and helps you stay in touch on-the-go, all while keeping your private information out of view. Here's what's included:
A Professional Texan Address.
Put your best foot forward with a reputable commercial address in the state capital. Use this address on your business cards, formation documents, Texas Franchise Tax Report, website, correspondence, promotions and anywhere else you might need it. Includes a unique suite number.
Unlimited Texas Mail Forwarding.
Conveniently check your mail from anywhere! Our unlimited digital mail forwarding helps you stay on top of correspondence and keep your documents organized. All incoming mail for your business (except junk mail) will be promptly opened and scanned to your online account by a member of our professional team.
Phone Service.
Connect with customers, employees and vendors from anywhere with a dedicated business number you can use on any device, thanks to instant iOS and Android app downloads. Our Texas Virtual Office gives you a virtual phone line with your choice of area code (we have local numbers in all 50 states!) and loads of useful, customizable features.
Month-to-Month Office Lease.
This no-obligation commercial lease is for our clients' benefit only. Unlike a traditional lease, you won't be locked into a contract with us. But if you ever need tangible, legal proof that your business has a physical presence in Texas, you'll have the paperwork.
When you hire us for
Virtual Office Service,
we'll receive, scan,
and upload your mail
to your online account—
quick and easy.
What Are The Benefits of a Virtual Office?
Sure, setting up a virtual office is (much) cheaper than maintaining a physical one. But that's far from the only benefit. Our Texas Virtual Office was designed to be flexible, moving with you and helping you work lighter—even if you're currently working from home. Here are a few ways our virtual office keeps you and your business happy.
1. It's a Reliable Home Base.
You may be working from your kitchen table or on the road, but your website and business mailings won't reflect that. With our Texas Virtual Office—and the same dedicated local address and phone number on the books, year after year—your company will present a polished, reliable image, helping you build a loyal client base.
The Texas business address we provide is unique: an individual suite, located in a respectable commercial building. This means stability for your business (your virtual headquarters can stay put for as long as you'd like).
2. It Allows For Privacy.
When you form a business in Texas, everything on your formation documents becomes a matter of public record. Hiring us as your Texas registered agent solves the address problem—but if you're a home-based business owner you may still end up giving out your personal details more often than not. If you'd rather not share your contact information with customers, our Texas Virtual Office provides a handy solution. With a dedicated Texas address and secondary business line, you'll be able to run every part of your company, from sales to admin, without ever disclosing your private information.
3. It's Convenient.
The logistics of keeping a company running smoothly can require a lot of administrative work (and extra time). Our Texas Virtual Office service reduces your workload by sorting your mail, securely shredding the junk, and scanning everything else to your easy-to-use client account. From there, you can download and print your important documents—or simply store them indefinitely.
We notify you instantly when you have a new mail item to view, and set you up with a feature-packed virtual phone line that travels with you. Think of your virtual office as a remarkably efficient secretary, keeping you on the ball by expertly handling all the minutiae.
4. It's Affordable.
Giving your company a professional boost doesn't have to mean paying hundreds of dollars in rent every month. Our Texas Virtual Office is an affordable, streamlined alternative that includes all the essential tools and technology you need to establish a strong local presence—and stay organized! Get unlimited Texas mail forwarding, a prime business address, call forwarding and more, for just $19 per month.
Sound Good? Here's How To Sign Up.
When you're ready to set up your Texas Virtual Office, signing up is easy. Just compare the options below and choose the one that works best for your business:
1. Texas Registered Agent Service + Texas Virtual Office
Every business entity in Texas needs a Texas registered agent. For just $35 a year, we'll be yours. And when you sign up for our local registered agent service, you can add our comprehensive virtual office package at checkout.
While you focus on running your company, we'll be keeping it in compliance with the State of Texas, ensuring you never miss a deadline. You'll also have access to our highly-trained support team, for whenever you need local business guidance.
2. Texas Business Formation + Texas Virtual Office
If you'd rather leave all the paperwork to us, this is the option for you. We submit your formation documents to the Texas S.O.S. in one business day and sign you up for our first-rate Texas registered agent service. When you're ready for us to form your Texas LLC or Texas corporation, add our Texas Virtual Office at checkout and your business will be ready to hit the ground running.
3. Texas Virtual Office
If you have an existing business and you're ready to take it to the next level, we can help. Sign up for our feature-packed Texas Virtual Office on its own to give your company a professional boost (while protecting your privacy). Get unlimited Texas mail forwarding, a professional Texan address, a second phone line and dedicated local support for just $19 a month.
Our Texas Virtual Office – FAQs
Is a virtual office worth it?
It depends on your business. Not every type of venture needs a virtual office, and not every company can work well remotely. But for online and home-based businesses in particular—as well as entrepreneurs who travel frequently or are based in another state—our Texas Virtual Office provides a good balance of affordability and function.
Here are a few questions to help you decide if a virtual office will work for you:
Is it important to you to keep your home address and personal phone number private?
Do you like checking your mail digitally (and being able to check it from anywhere)?
Can your company function well without a traditional office environment?
Would you like to use a local commercial address and phone number when promoting your business?
If you answered yes to one or more of those questions, a Texas Virtual Office may be a good fit for you and your business.
How can I use my Texas virtual office address?
You can use your unique Texas address to receive business mail, and for anything else that's business-related. From promoting your company on social media to submitting your annual report, the address we provide will be the only one you need to maintain and expand your venture.
Can you physically forward my mail to me?
Sure! While our mail forwarding service is primarily digital, if you ever decide you want a mail item physically forwarded to you (after viewing it in your online account), just let us know. We'll ship it to the U.S. address of your choice for $9 plus shipping.
Note that expedited shipping or items that require extra postage will cost a little extra.
Can I get Texas mail forwarding on its own?
Absolutely. If your business could benefit from Texas mail forwarding and a commercial address (but you don't particularly need an office lease or a second phone number) we've got you covered. We offer three different levels of mail forwarding—simply choose the one that best fits your business mail volume.
What if I stop needing a virtual office?
If your business needs change at any point, it's easy to cancel. Unlike a lot of our competitors, we don't make you sign a contract when you sign up for our services. Canceling your Texas Virtual Office can be accomplished with just one click in your client account, and there are no fees.
A Comprehensive Office Solution
Why rent an expensive office space? Whether you're looking to build your company's credibility, protect your privacy, streamline your paperwork, reduce your overhead—or all of the above—our virtual office solutions can help. Sign up today.