$35 Texas Registered Agent Service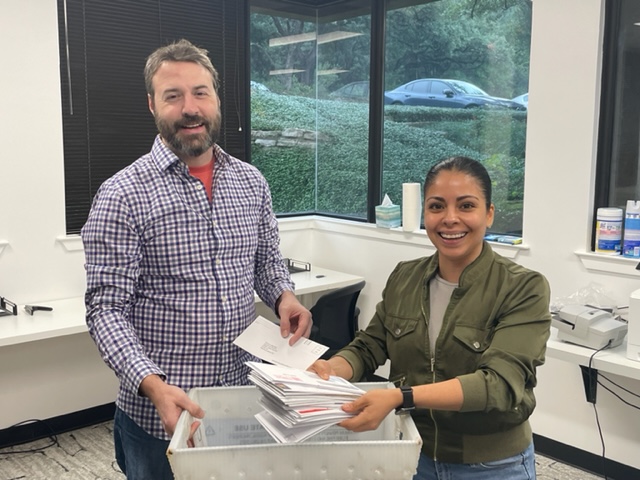 When you hire us as your registered agent, you not only get the best deal in Texas, but you also get a usable business address and we'll even scan your mail to you.
Hire us and get Texas Registered Agent Services for just $35 a year.
What is a Texas Registered Agent?
A Texas company doesn't breathe or bleed, but that doesn't mean it can hide from the law. Texas registered agents act as the legal point of contact for businesses in Texas, and every LLC, corporation, nonprofit and legally formed business entity in Texas must appoint one on their formation documents. That way anyone, at any time, can search for a business in the state database and find that company's legal point of contact—its Texas registered agent.
Your Texas registered agent must have a physical street address in Texas. This address will be published in the Texas public record, and it's the place where official documents like service of process (should your business be sued) will be delivered. Our office is in Austin, Texas, just a short drive from the state capitol, which means we can receive and deliver important documents to you quicker than most.
Starting a Texas business helps protect your assets by creating a legal separation between you—the living, breathing individual—and your business affairs. Using a professional registered agent service is the best way to maintain that separation. And with Texan Registered Agent LLC, you get the added benefit of experts working on behalf of your company from right here in the heart of Texas.
Our Texas Registered Agent Service Includes:
Best deal ($35/Year) in the State of Texas.
A physical Texas business address you can use as your business address and to protect your privacy. List this address for yourself and every member, director and officer of your company.
Free mail forwarding! 3 mail scans per year, in addition to all of your legal mail.
Free Phone Service for 60 days! A convenient virtual phone system with instant iOS and and Android app downloads, so you can use your new number with any device.
Reminders to file your Texas Franchise Tax Report.
An online account where you can view, download and/or store important documents and track your Franchise Tax Report due dates.
Access to our quick and easy business filing services.
Instant access to all service of process and important documents. These are scanned and uploaded immediately into your online account.
Forms for filing with the State of Texas, promulgated with our TX business address, immediately upon signing up.
An email and invoice asking you to renew our service each year. No automatic charges.
Same price every year.
Flat rate annual fee for TX registered agents service. No forwarding fees, end of year fees or cancellation fees.
Our cost structure is simple. You'll be charged $35 initially for 1 year of Texas registered agent service. One year from now, you'll get a bill from us for $35 for an additional year of service. There are no other bills from us.
You can trust that you won't get any scares on your credit card statement after you hire us to act as your Texas registered agent—unless you hit the "Submit Order" button 5 times because you're trying to place an order over a slow internet connection. Rest assured, there's a lot of crappy internet in TX, and people do this. We've beaten our heads against a wall for years trying to figure out how to stop it. We don't want your money 5 times. If this happens, our accounting department WILL find it and refund any extra money you may have given us pronto.
We are the low cost, high volume leader in all of Texas. You get our high-end tools, attention to detail, and real-time client support. You get the benefit of our years of accumulating repeat clients—which means we can offer you the best Texas registered agent service.
Our Texas registered agent service helps out-of-state businesses register to do business in Texas, and keeps local Texas businesses in good standing with the Texas Secretary of State. What puts our service head and shoulders above the rest? It's all in the details:
We provide built-in privacy protection with our address here in Austin, giving you a real Texas business address you can list for every member of your company.
We scan your legal documents to you the same day we receive them, and notify you instantly once they're in your account.
We include free basic mail forwarding—3 non-legal mail scans to your account each year, at no extra cost.
We also include a risk-free 60 day trial of Phone Service for your business (just $9 a month to maintain after that).
Texas Registered Agents: The Lowdown
Our service is exhaustive, complete and will provide you with everything you'll need a Texas registered agent to do. We also want to make sure we provide you with as much knowledge as we possibly can. Below, you'll find answers to the questions we respond to the most. If you don't see what you're searching for, please shoot us an email or call.
When Do You Need a Texas Registered Agent?
Texas LLC: on the LLC Certificate of Formation
Texas corporation: on the corporation Certificate of Formation
Out-of-state registrations: on the application for registration
Any business entity registering with the Texas Secretary of State
Sometimes you may be doing a proceeding in court and the judge will want you to appoint a third party registered agent because you've been a little naughty and hard to track down.
Legal requirements aside, you may want to hire a professional Texas registered agent simply to protect your privacy. If you run a home-based business and don't want to list your residential address on the public record, using a Texas registered agent service (like ours) will allow you to leave your personal information off of your state documents—and help you avoid towers of junk mail.
Why is a Texas Registered Agent Required?
Every business operating in Texas needs to have a way to get legally notified. Without these requirements, businesses could hide from the general public. The Texas registered agent requirement gives anyone a means to legally complain to a business. By looking up a company's registered agent and simply sending a certified letter, you have legally notified that company. These requirements are a good thing for the general public.
What Does a Texas Registered Agent Do?
A Texas registered agent accepts mail and legal notices for LLCs, corporations, or any business entity.
Texas registered agents are listed on company registration paperwork given to the TX SOS.
Who Can Be a Texas Registered Agent?
According to Texas Business Organizations Code Sec. § 5.201(b), a Texas registered agent can be:
Who Cannot Be a Texas Registered Agent?
The same company that you're forming or registering
The Texas Secretary of State
Anyone without a permanent physical Texas address
Who Shouldn't Be Your Registered Agent?
National registered agent services that have to hire a local company like us to maintain their office in Texas.
What are a Texas Registered Agent's Duties?
According to Texas Business Organizations Code Sec. § 5.201(d), every Texas registered agent must:
Provide a physical address in Texas (the registered office)
Be at that address during business hours
Forward any documents received to the business entity contact
Are Registered Agent Consents Required?
Registered Agent Consent forms are antiquated relics from a time when reliable internet service was rare, people still used phone books, and cell phones were strictly for conversations. If you were to ask us this question in 2010, we would say yes—but that was a decade ago. It's no longer a requirement for your registered agent to give their written consent in the State of Texas. Furthermore, if you want to file it with the state, they'll take your money to the tune of an additional $15. You appoint the registered agent when you make a filing with the Secretary of State. When you sign up with us, we consent to be your registered agent by providing the service, a paid invoice, and proof of active service in your account.
That said, if a Registered Agent Consent form is important to you, dang it, it's important to us too! If you'd like our written consent, respond to our welcome email with whatever consent form you'd like filled out, and we'll sign it and email it back to you within the hour. We admire you for doing what feels right to you regardless of what decade it is.
What If I Don't Maintain a Registered Agent?
The Texas Secretary of State will dissolve your domestic Texas company. If you're a foreign company doing business here, it will revoke your authority to do business in Texas.
How to Change Registered Agents in Texas
Choose a new registered agent service
Verify you have the correct physical address
Fill out the change of registered agent and office form
Cut a check for $15 made payable to "Texas Secretary of State"
Mail in your filing and payment to: TX SOS PO Box 13697 Austin, TX 78711-3697
Check your company by doing a Texas name search here and make sure they follow through with the filing
OR— An incredible alternative to wasting half your day with all that would be just to pay us $35 to be your registered agent, check the box that you'd like us to deal with the paperwork of changing of your registered agent, and you'll be done.
Why Choose Texan Registered Agent?
For every one of our clients we include a real Texas business address, free basic mail forwarding (up to 3 regular mail scans per year), a secure online account, and same-day scans of your incoming legal mail—all for just 35 bucks a year.
If you're still reading this and are not convinced that we're the best option for your company, you could give us a call or shoot us an email. An even easier option? Sign up and try us out. You won't be disappointed. This is all we do, and we're pretty darn good at it.