Use Our Address to Get Your Mail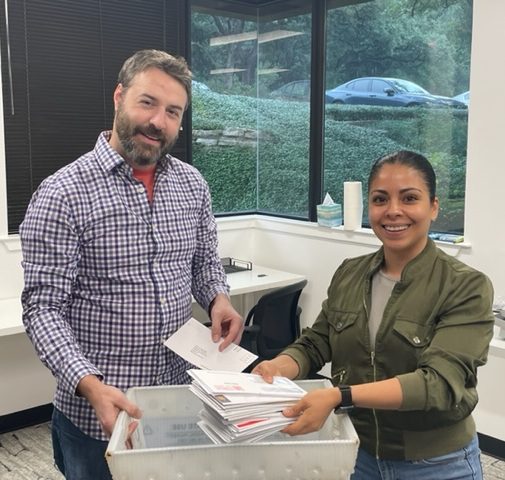 We're in the office five days a week during regular business hours.
We'll scan your regular mail:
3 mail scans – FREE
+10 mail scans – $49/year
+25 mail scans – $99/year
Unlimited mail scans – $19/month
And notify you when we add a new piece of mail to your online account.
Our Mail Forwarding Options:
Free Mail Forwarding

Basic Mail Forwarding

Premium Mail Forwarding

Texas Virtual Office
Business Address
√
√
√
√
Easy-to-Use Online Account
√
√
√
√
Junk Mail Filtering
√
√
√
√
Same-Day Mail Scans
√
√
√
√
Phone Service
60-Day Free Trial
60-Day Free Trial
60-Day Free Trial
√
Unique Suite Number
√
√
√
Month-to-Month Lease
√
Meeting Room Rental Options
√
3
Mail Scans

+10
Mail Scans

+25
Mail Scans

Unlimited
Mail Scans

FREE*
$49/year
$99/year
$19/month
* With registered agent service.
Same-day Scans to Your Online Account
Our low-maintenance Texas mail forwarding packages were designed for small business owners and individuals just like you. We offer free mail forwarding with registered agent service, plus 3 different full-service options, each of which includes a unique suite number that's never been used before.
Need a commercial address in Texas to help you build a professional, local business presence? Use your dedicated Texas business and mailing address on your website, business cards, shipping labels and email marketing campaigns.
Looking for a physical mailbox to help you stay connected (and organized) while you live out of your backpack or RV? Our Texas mail forwarding solutions are perfect for digital nomads and winter travelers too.
Whether you're building a business enterprise from your home office or road-tripping across America, you can rest assured knowing we'll always be right here in Austin, ready to receive, sort and scan your mail to your secure account.
What is Texas Mail Forwarding?
In a nutshell, Texas mail forwarding means hiring a Texas company to receive your mail at their address, and then scan your documents into a secure online account. Texas mail forwarding services also provide a local Texas address, which you can use for official and non-official business purposes.
Our mail forwarding service includes:
A real Texas address you can use to protect your privacy

Same-day mail scanning

Secure shredding of junk mail

An easy-to-use client dashboard where you can view and print documents

60-day free trial of Phone Service, a virtual number you can use with any device
Unlimited digital storage space (with no expiration date)

Instant notifications when an item's ready to be viewed

Access to our knowledgeable support staff
⇒ Individuals with online or home-based businesses will appreciate the privacy protection and credibility boost afforded by a real Texas business address.
⇒ Out-of-state business owners, digital nomads, RVers and expats will love the convenience of checking their mail anytime, from anywhere.
And all of our clients benefit from our exceptional attention to detail and friendly local support team, ready to answer any question.
Our Texas Mail Forwarding Options
With 4 different levels of Texas mail forwarding to choose from, you're sure to find the perfect fit for you and your business. Each package comes with a real Texas address you can use to form your company—but if you need a business address for your website, business cards, and everywhere else, you'll want to select one of our Unique Suite Number packages.
Don't have a business? No problem: just choose the plan that best matches the amount of mail you expect to receive for the year (most travelers go with Unlimited).
⇒ Texas Business Address + 3 Mail Scans Annually: FREE 
Our unmatched, local Texas registered agent service includes free basic mail forwarding! We'll scan 3 pieces of regular mail to your account every year, at no additional cost to you. Also included is a Texas business address you can list on your state forms to protect your privacy, and unlimited same-day scanning of your state and legal mail. If you want to keep your private address off the public record, you don't expect to receive too much non-state mail, and you have a secondary address you can use for day-to-day business purposes, our basic mail forwarding package is a serious bang for your buck.
Free 60-day trial of Phone Service Included!
⇒ Unique Suite Number + 10 Mail Scans Annually: $49/Year
If you need a unique-to-your-business, multipurpose Texas address and a decent amount of mail coverage without a registered agent, this is an excellent starter package. For just over $4 a month, you get the benefits of an established commercial address—complete with an individual suite number—that you can use in all of your daily business interactions. You also receive 10 mail scans each year, uploaded directly to your client account.
If you already have Registered Agent Service, you'll receive 10 scans in addition to the 3 free scans you get when you sign up for RA service. That's 13 mail scans each year.
Free 60-day trial of Phone Service Included!
⇒ Unique Suite Number + 25 Mail Scans Annually: $99/Year
Offering all of the benefits of a unique Texas address plus 25 digital mail scans per year, this mid-range option is ideal for growing businesses, as well as individuals going on longer trips. Stay organized and connected while on-the-go (and avoid the dreaded mail pile-up) by signing up for our most popular mail forwarding plan.
Already have Registered Agent Service? Then you'll receive 25 scans in addition to the 3 free scans you get when you sign up for RA service for a total of 28 mail scans each year.
Free 60-day trial of Phone Service Included!
⇒ Virtual Office (Unique Suite Number, Unlimited Mail & More): $19/Month
Run your business from anywhere—you'll never miss a single piece of mail or business call with our comprehensive Texas Virtual Office package. Includes a Texas business address with unique suite number, unlimited mail scanning to your online account, our top-notch Phone Service, and a legal, month-to-month office lease. This package is flexible and customizable—designed to be as useful for home-based business owners in Texas as it is for full-time wanderers.
Unlimited Phone Service Included!
How Do I Sign Up?
Signing up for our Texas Mail Forwarding service is easy. Just compare the options below and choose the plan that works best for you and your business:
1. Registered Agent Service + Texas Mail Forwarding
Every business entity in Texas needs a Texas registered agent. For just $35 a year, we'll be yours. In addition to unlimited same-day scans of your incoming legal and state mail, we include 3 regular mail scans each year, free of charge.
While you focus on running your company, we'll be keeping it in compliance with the State of Texas, ensuring you never miss a deadline. You'll also have access to our knowledgeable support team, located right here in Texas, for local business guidance.
If you're in need of a unique mailing address for your new business, simply add one of our full-service mail forwarding packages to your registered agent service at checkout.
2. Business Formation Service + Texas Mail Forwarding
If you'd rather leave all the legal paperwork of starting your business to us, this is the option for you. We submit your business formation documents to the Texas S.O.S. in one day, and sign you up for our first-rate Texas registered agent service. While you're signing up for our Texas LLC or Texas corporation, be sure to add one of our Texas mail forwarding plans at checkout and your business will be ready to hit the ground running.
3. Standalone Texas Mail Forwarding
If you're in need of a mail forwarding solution—but not any of our business services—simply sign up for the package you need on its own. Our feature-packed mail forwarding plans will help you keep your affairs in order whether you're living abroad for the year or heading out on a grand adventure in your RV. When it comes to convenience and peace of mind, our prompt, secure Texas mail forwarding can't be beat.
Why Choose Texan Registered Agent?
We keep it local.
Our office isn't located in New Jersey, Maine or Pittsburgh—we're right here in Austin. And we don't believe in outsourcing to third parties, which means we won't send your important documents to a giant distribution center that we have no control over. When your mail arrives at our secure office, a member of our carefully trained, local team will open it and scan it to your client account that same day.
We're not going anywhere.
We've been at our current address for years (we own the building!) and we're staying put, which means your Texas business and mailing address will be the same on the day you sign up, and 50 years down the road. We believe in slow and steady business growth—and we want our clients to stay with us long-term. That's why we put our energy into providing the best mail forwarding and business services in all of Texas. If you're looking for a stable Texas address you can use for the lifetime of your business (or the duration of your travels), you're right where you need to be.
We're rooting for you.
We know your business means the world to you, and we'll do everything we can to help it succeed. When you call our customer support number you'll speak to one of our friendly, knowledgeable staff members right here in Austin, whose only goal is answering your question as thoroughly as possible. And when you entrust us with forwarding your mail to you quickly and securely, that's exactly what we do. Sign up with us, and you'll have a partner and guide who's in it for the long haul.
Sign Up Today.
We provide the tools you need to run your Texas business and stay connected, no matter where you are. For reliable, affordable mail forwarding service, sign up with Texan Registered Agent today.